Non-Formal Education Day - 24 Feb 2019
10/11/2023
Again, SMI Shipyard held the Non-Formal Education Day in 24 February 2019. WIth fun activities, the voluntary teachers explained to children some useful soft-skills such as how to use tools, how to co-operate with friends, how to avoid dangers, how to develop their own skills.
Non-Formal Education Day - 27 Jan 2019
09/03/2019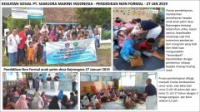 Co-operation with Voluntary Teachers, SMI Shipyard held the Non-Formal Education Day, which were attended by Orphanages in Desa Bojonegara, in 27 January 2019 The teachers teach them the topics: ethic, etiquette, clean environment, personality in a simple applications, such as : say thank you if someone help you, speak politely, how to clean hands after finish playing, etc.
Free Clinic - 12 August 2018
09/03/2019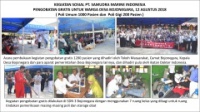 SMI Shipyard held the Free Clinic at SDN 3 Bojonegara, in 12 August 2018, co-operated and supported by IDI ( Ikatan Dokter Indonesia ) 1200 peoples were attending and get the Free Diagnostic, Consultancy, and Medicines during the event.
2018 Charities
09/03/2019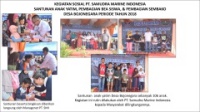 During Year 2018, SMI Shipyard did some charity events, and give donations to 106 orphanages in Desa Bojonegara. SMI Shipyard continually give impact to communities which surrounding the company area as one of our social responsibilities
Social Charity Event - 03 June 2018
09/03/2019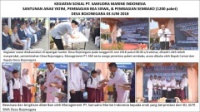 Again SMI Shipyard did the Social Charity Event, which is held at Desa Bojonegara Office, in 03 June 2018. Donations were given to 1200 peoples, consist of Food Packages. Donations also were given to the Best Students of Elementary School, Junior and Senior High School in Desa Bojonegara.